Welcome to my Homepage!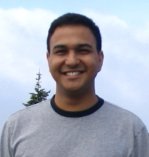 Sarvjeet Singh
Google Inc, Mountain View, CA.
Email: s
...
@gmail.com
Introduction
I am currently working at Google headquarters in Mountain View, CA. At Google, I am leading the team that works on maximizing advertiser's ROI through automated real-time bidding. Conversion Optimizer and Enhanced CPC are two of our externally launched products.
Before joining Google, I completed my PhD from Department of Computer Sciences at Purdue University. I worked with Prof. Sunil Prabhakar on problems related to Uncertainty management in Databases. I was a member of Indiana Center for Database Systems (ICDS) and Orion groups. Prior to joining Purdue, I got my bachelor degree in Computer Science and Engineering (CS&E) from Indian Institute of Technology, Bombay, India (IIT Bombay).
You can get the latest version of my Resume here. Click here to see a list of courses that I have taken.
My PGP public key
Here's my public key.

Key fingerprint:
95D9 1770 BA2E 8970 EE6D 7F72 CF1C BDB0 8F39 5501